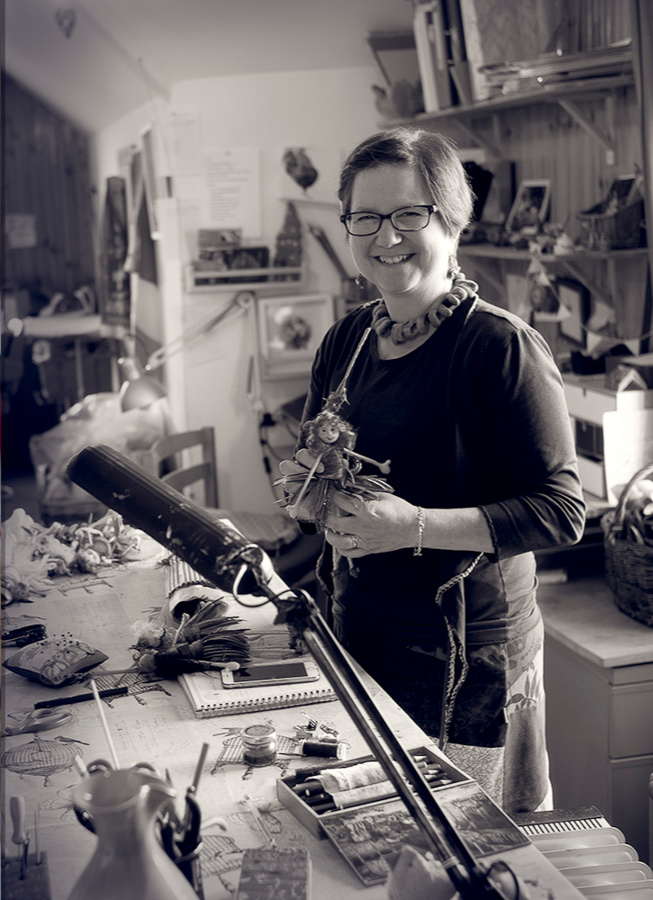 Your Tutor
Franziska
Felt Artist @ Franziska
I am a self thought textile artist working primarily with wool nowadays, even though I am a qualified saddle maker. Almost 20 years ago I stumbled over wool during a project I was involved with. Leather got gradually replaced by with wool and I haven't looked back since. I started running courses and classes 10 years ago here in my studio.
When the pandemic hit Ireland we where very restricted as was the rest of the world. But it gave me the time and recourses to start teaching online.
There are many benefits to learning online. If you're not convinced you can read up on a article I wrote some time ago.
Wet Felting Online Teaching - Franziska
I was awarded from the Irish Enterprise awards for best run courses in Ireland. Other awards I received, are from the prestigious Royal Dublin Society for my leather and felt works. I am lucky to get commission works too which I love doing, as I can work closely with a client and get to create their envisaged design.
Wet felting is a wonderful hobby. Your materials won't dry out, don't need any expensive machinery and you can work 10 minutes or a whole day on the same project.
A little wool will bring you a long way to start you off. I am excited to show you what I have learned, the mistakes I made and the success. You are in good hands for learning something new and exciting.
Example Video Title
Hi, good to see you. I'd like to show you a short introduction into my fairy making course. I hope you like it.

Is It For Me?
The most asked questions I hear.......
Can I do this with no experience?
Yes you can. I had many beginners in this class.
I have run classes from school age children to adults and everyone in between. Yes, some find it easier then others, but everyone always finishes their project with outstanding outcomes. I would recommend that children are over 12 years of age and get help from an adult to do the course. Some of the work in this course includes fine stitching.
Where can I buy the materials?
When you sign up for the course you have full access to the tools and material list. You can purchase all at your own leisure with links and recommendations. Or take the easy route and order a fairy kit via the website here, where all is included that you'll need.
You will also receive 10% discount on tools and materials. Just enter your special code if you make a purchase through the felt fairies shop.
Do I have enough time to complete the course?
The course consists of 7 modules. You will need 2-3 hours in each module. Some may take even longer other's less time.
The complete course is presented at one time. I guide you through the course through PDF's, written content and lots of video. I'll answer questions and comment throughout the 6 months of the course in the online classroom. Questions will be answered daily for the first 6 weeks, except on weekends. After that I will comment and make recommendations once or twice weekly. This is also where we can meet and connect with other students. Share our achievement and learn from others.
The fairy felting course is always very popular, as it gives a good understanding of what wet felting is about. I teach the principals of wet felting, some needle felting and also resist felting. Especially resist felting gives you a world of opportunities to discover.
But that is not all. I will also teach you how to implement wire into felt. And I'll give you some bonus material to let your imagination run free. Just one bit of advice....felting can become addictive.
More FAQ can be found on the home page.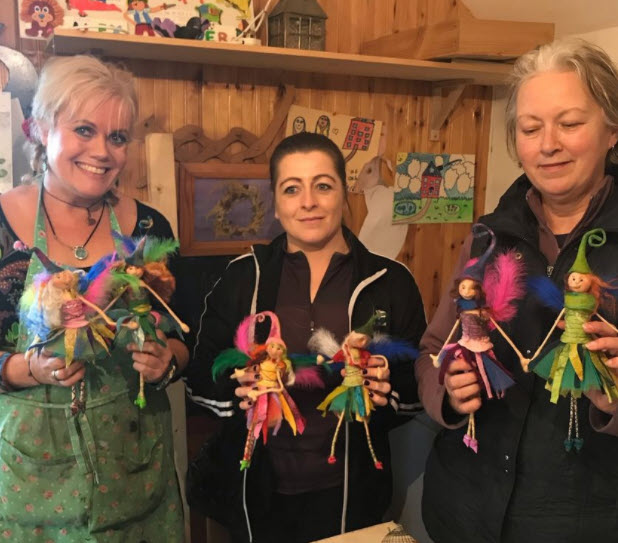 This was a wonderful fulfilling workshop.It was such fun and Franziska is a great teacher. Making the felt was extremely satisfying and the process was eye opening.
Seana Farrington Co. Cork
Loved every second of this course.
Faye Byrne Co.Meath
Highly enjoyable. Total immersion and absorbing, lovely and peaceful. Never knew how much was involved in making fairies.
Frances Torsney Co.Dublin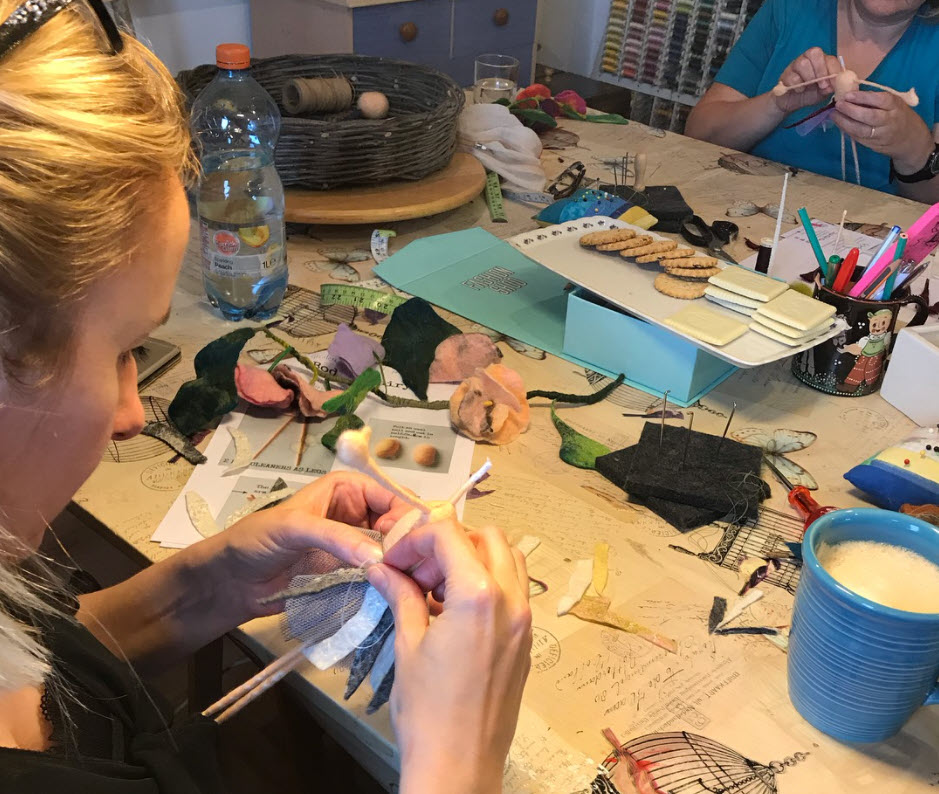 Yes, this is your time. Enjoy it. Make yourself a cup of tea/coffee and indulge in some me time for 2-4 hours each week. Modules do not have to be finished once started. They can be broken up into sections and easily being continued an other day.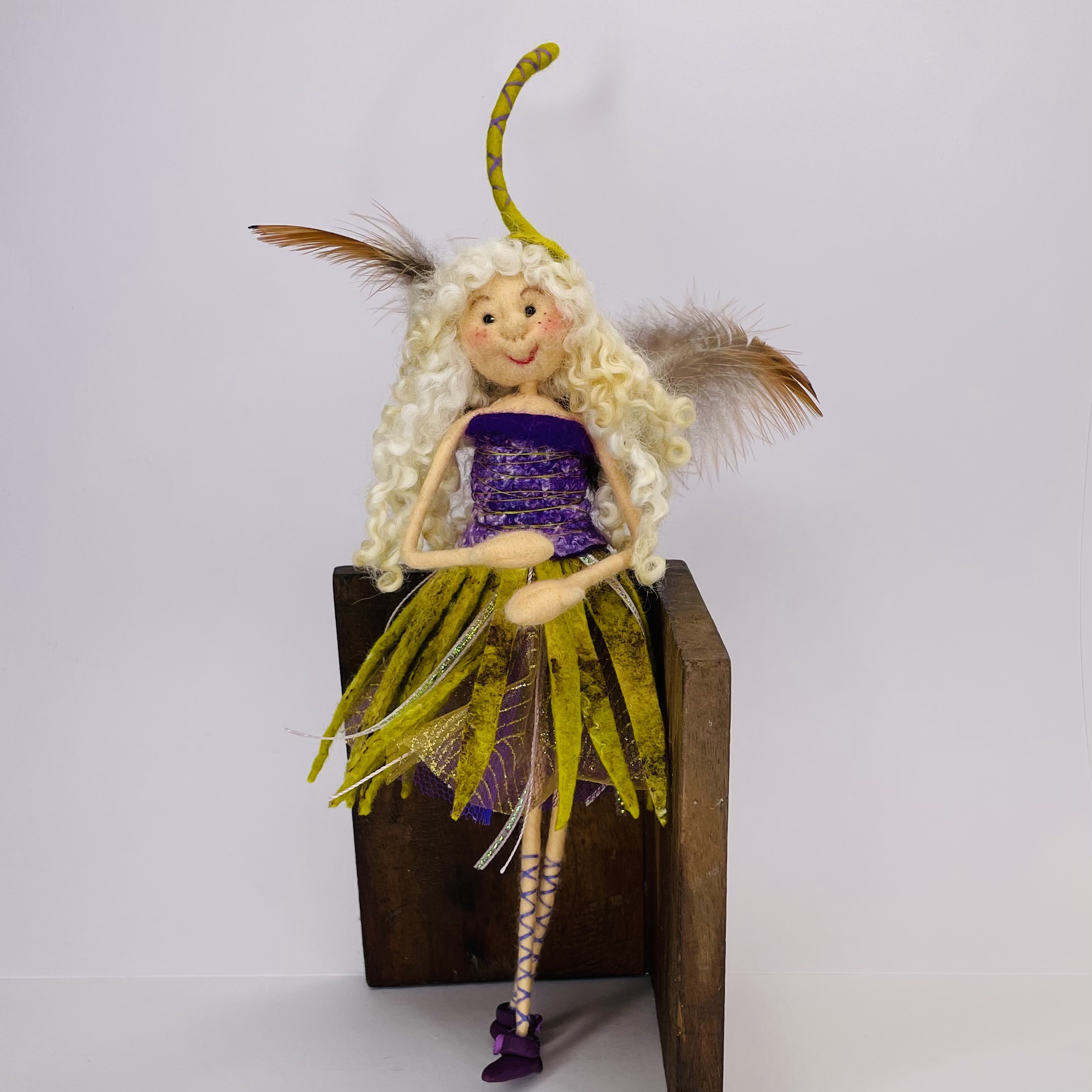 If you are new to felting ,you may not have all materials at hand. I have different fairy colour combinations available in my shop where you can select materials before you start the course. A special code will be made available for you when you sign up.. The code will give you a 10% discount for the duration of the course if you buy direct through the felt fairies website.