ONLINE COURSES BY FRANZISKA
Step by step creating felt from wool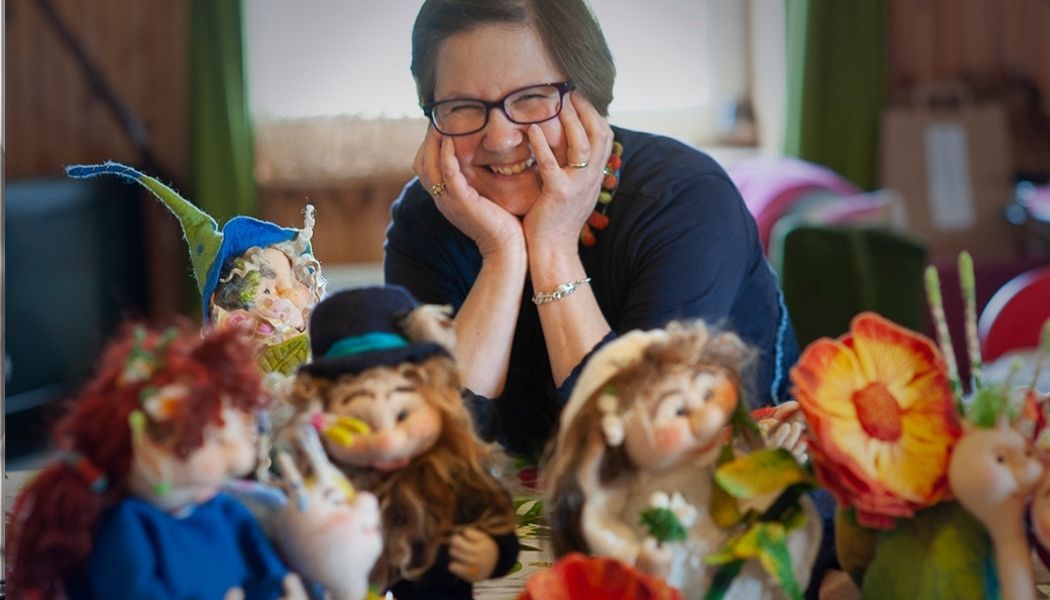 Hi
I am Franziska.
I create wool felt art in my studio here in Ireland.


 I studied saddlery leatherwork in Switzerland for 3 years, graduating from the Beruflichen Gewerbeschule in Bern . This degree gave me a wide knowledge of leather, natural fibres and textiles and encouraged me to develop my art and design skills.
These have been subsequently honoured several times with prestigious awards received from the Royal Dublin Society (Ireland)
I also teach this beautiful craft online and in person. The online wet felting workshops give me an opportunity to reach out to a worldwide audience
I have been felting for over 18 Years. I started in 2004 and since 2010 I give classes in my workshop. I have gained a lot of experience working with different clients. From children to adults and these who need extra help.
I received awards for my creations and I have exhibited throughout Ireland and abroad.
I teach through video content, pdf files, photos and personal feedback to individual participants.
I love to share what I know and learned along the way. There are many techniques in felting. I felt with warm water, soap and wool. I explain the principle of wet felting in the introduction course, followed by 3 free courses for different objects.
Are you in? Let's start the essence of awareness and come felting with me.



"...I thoroughly enjoyed the course you provided. I didn't know what to expect and discovered a wonderful new craft. Fabulous way to spend a few hours."
Anneliese Brown
Swinford Co. Mayo
FAQ
How does online teaching work?
The whole workshop/course is happening online. You will learn each step at your own pace via your computer, laptop, tablet of phone. You will need a internet connection.
Phones are probably not the best as the screen is small.
Each lesion will teach you with written information, pictures, and lots of video content in the comfort of your home.
The course is happening at one time. That means you have immediate access to the whole workshop.
You don't need to wait for lessons to be released. The whole course is presented as one with different modules to navigate through.
As each module is different, so is your input into the course. Some modules take longer to complete then others. You will learn something new with each of them.
Do I need to take the class in order it is presented?
I would recommend that you follow the course as I have it outlined. Once you have completed the course you can change the order of lessons if you wish to do so.
Do I need to be online the whole time?
No, but I would recommend that you watch the videos first before you start. The PDF files may be sufficient for you to continue offline.
Does the class interact via e.g., zoom?
No, the class will not meet in that way. It would not be possible to interact in that way as we all live in different time zones. Furthermore, this way everyone can work at their own leisure. There is no pressure to finish your piece or to keep up with everyone else. You simply suit yourself.
I will be interacting by answering questions and giving feedback on your process via the online classroom. Everyone can interact, upload pictures, and ask questions if they wish to do so.. Initially I will answer questions and give feedback daily, except for weekends. Please check the sales page for individual courses as to how long daily feedback commences. You will receive feedback for the duration of the course, but not daily after the initial few weeks.
Are the materials included that I need for courses? 
No. Materials and tools are not included. The course description has a link for the full list of materials and tools needed. Together with a full list of suppliers in different countries.
Most of the tools you will have already in your household or are not expensive to buy.
I try to keep the list to a minimum or give you options to keep the costs down.
I would recommend buying good quality wool. Especially if you are new to felting. Good wool will not cost a lot more but will satisfy and last a lot longer. The wool I recommend felts easy. For beginners that have no experience I would highly recommend to start with an easy to felt wool.
 I use merino wool throughout my work and the courses. I want to give you the best experience and outcome. And that starts with good quality wool.
Are kits available to purchase for participate in the courses?
Yes, you can find kits (wool and tools) for courses via this link SHOP-CRAFT SUPPLIES .
If you would like different colours then what is available in the kits, then send me an email. All colour options are visible under the merino wool section.
What are the benefits of online classes versus hands on classes?
Hands on classes are great if you live in Ireland and you are willing to travel.
One day courses are a lovely as I always finish a product with my students on the day. But as it's only one day, you only get one chance to see what I do. Online classes in this regard are priceless. You can watch over my shoulder as often as you like. There is nobody else in front of you taking the view. My camera is always behind and above me. Giving you a birds eye view.
The benefits of online classes are....
You have as much time as you need. Rather than being limited to a few hours (as you would be in a physical course) you can ask me lots of questions over the coming weeks and months. You can work as many hours as you want during the class. It is ongoing, its not finished and done in one day as a hands-on class is. You can review and repeat steps as many times as you want. You can work and walk away at any stage and come back to it. Even days or weeks later. Get to meet lots of others from all over the world and share your success with them. You will be able to print/download all PDF files you need to continue with the course program for years to come.
Are the courses suitable for beginners or just the more experienced?
Absolutely. All courses are suitable for beginners. Otherwise, it is clearly stated. Everyone taking part will learn so much and will be able to create many more wonderful fulfilling projects with the learned material.
The more experienced participant may have one or two "aha" moments as well.
Would the course suit a child?
Courses are suitable for children with the help of an adult. I would recommend that the child has some experience with stitching and is older then 12. You know the ability of your child better then me.
Do I need a lot of space?
No, your kitchen table is fine. Your table will more then likely become wet a few times during the course. Cover it with plastic if it's an issue. Please don't damage your table with water, as it will get wet.
How long will I have access to courses?
You have access immediately to all classes. The courses are yours for as long as you want them or as long as I update and keep me website. And I have no intention of going anywhere else. If my circumstances should change I will notify you in advance so you can download relevant information of the courses you're in rolled in. The courses are hosted on teachable, which is a very reliable and well known teaching platform. Reliable, easy to navigate and follow.